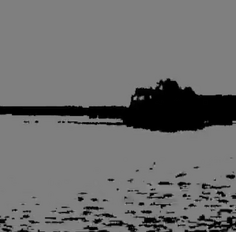 The Boat Incident is an event that occurred on February 9th, 1997. It was a family reunion trip organized by the Maxwell, Asher, Henderson, and Adler families. The event was vividly described by Milo in the Milo's journal entry "capsize", where he had completely forgotten about the details but remembered them in a dream after not taking his pills.
Description
Edit
The families got on the private charter at noon, there were around 20 people inside the yacht. It was Milo and his mother, the Hendersons, the Maxwells, the Adlers, and a few others. They sailed around the harbor for a few hours and everything was fine until there was some screaming and a huge explosion that flipped the yacht on its side. Milo was inside playing with Will and Elizabeth and they were able to climb out before water filled up the cabin. They swam to shore to see that the boat had capsized and was smoking. The Adler grandparents floated over on a life raft and Fred had to carry Steph because she couldn't swim well. Aunt Jo was freaking out because Sam and Tommy were missing and Noah's parents were calling out for Noah who was also missing along with both grandpa Karl and grandma Sonia. First, Sam emerged from the water with Tommy who wasn't breathing. Someone came over and tried to give him CPR but it was too late and Tommy passed away. Karl was found down the shore hanging on to Sonia's life vest and a book. Everyone else was accounted for except Noah, Sonia, and the captain. She had drowned and washed up later that day. They had a search party that went late into the night. They found Noah washed up way down the shoreline that morning.
When they found him Milo went over to him on the stretcher and Noah told Milo, "The truth lies within. The river's flow is where it begins. When the dawn breaks the soul awakens" (Noah later states on the blog that he does not remember saying that, and that Firebrand may have saved him). Everyone else made it out okay, but the captain's body was never found. Mary accused Karl of saving his book instead of his wife and she kept yelling at him demanding that he tell her why he had her unfastened life vest.
The boat incident was first mentioned in Noah's Ask.fm in April 2013.
Henka Visæ was revealed to be the captain of the boat by Scriniarii in April 2017.
The quote Noah said after the incident, appeared in INTERCEPTION, most likely referring to the incident. At the same time, a boat can be seen in the background.
Noah mentions that the river seen in INTERCEPTION is the same one where the incident happened.